Thank you for visiting the CJWC Website. This site is intended to inform, educate & entertain Clubwomen, prospective members and the general public. If you have any questions or concerns, feel free to email them to southblessings@aol.com. Please visit often, as our website is updated monthly.
Our Mission
CJWC is made up of community-minded women from the Citronelle area and beyond, who have joined together to provide community service through volunteerism. CJWC has give countless hours and more than tens of thousands of dollars to many community organizations since its beginning in 1968.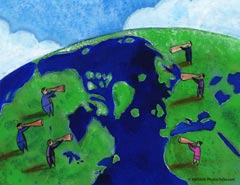 Organization News
Please see the Calender for all upcoming events.



Becoming a Member
We welcome any inquiries about membership. To become a Prospective Member, you must be invited by a Clubwoman. See the Current Members page for a listing of Clubwoman you can talk to about your desire to join, or email Jean at southblessings@aol.com.
In addition, you should note that all members must pay annual dues: $30 for new members, $25 for returning members. Members are also expected to attend monthly club meetings, support fundraising projects and participate in volunteer service activities. It's a lot of work, but it's a lot of FUN!